Welcome to None-So-Hardy
Hedging
In None-So-Hardy Nurseries we take the long view
grow quality forests
Hedging
Please select from Hedging listed below (All prices quoted are exclusive of VAT @ 13.5%):
Carpinus Betulus – Common Hornbeam
Grown naturally, Hornbeam is a medium sized native tree that makes a beautiful parkland specimen, but it is most widely used for hedges. It's ability to grow in wet places (where beech absolutely will not) makes Hornbeam is a most useful tree for poor planting conditions.
Size: in cm     40+, 60+, 80+
Price: €98.00 per 100                                             (Min qty 100 trees)
Cornus Sanguinea – Yellow Dogwood
It is commonly used as a screen but can also be used as a specimen shrub. The Yellow Twig Dogwood tolerates wet soils and can be grown in full sun or part shade. Deep red leaf colours in Autumn followed by yellow bare stems in winter provide year round interest.
Size: in cm           40-60
Price: per 100     €87.00                                             (Min qty 100 trees)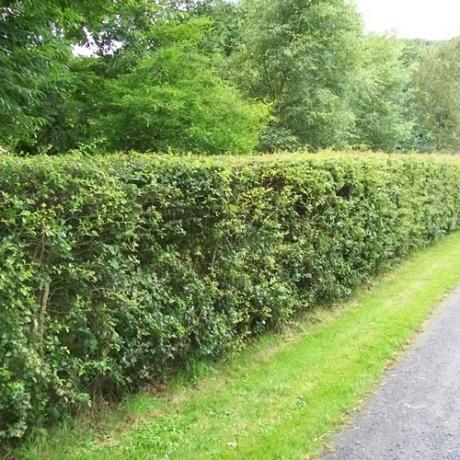 Crataegus Monogyna – Whitethorn
Whitethorn is our most common hedgerow plant. It puts on a stunning display of white flowers in spring and red berries in Autumn. Is also suited to forming stock proof hedges.
Size: in cm 30+, 50+
Price: €60 per 100                                             (Min qty 100 trees)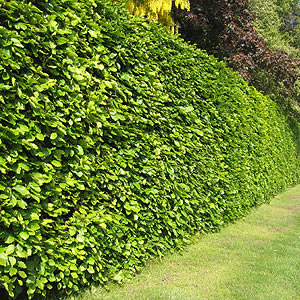 Fagus Sylvatica – Beech
Beech is a large tree that can grow to 40m in height. Oval leaf with wavy edge. Very well suited to forming a hedge and although deciduous the hedge will hold the brown leaves over the winter.
Not suited to heavy damp soils.
Size: in cm            50+           80+
Price: per 100     €76.00     €98.00                                             (Min qty 100 trees)
Fagus Sylvatica "Purpurea" – Copper Beech
Copper Beech is a variety of European beech with shining purple or copper-colour leaves. Again suited to forming a hedge and not suited to damp heavy grounds.
Size: in cm 40+
Price: €2.85 each
Ilex Aquifolium – Holly
It is one of the few native broadleaf evergreen trees. Holly is very suitable for gardens as a specimen tree or hedge. Holly trees are either male or female so it is worth planting a few together as only the females produce berries.
Size: in cm     30+ 1/1
Price: €2.30 each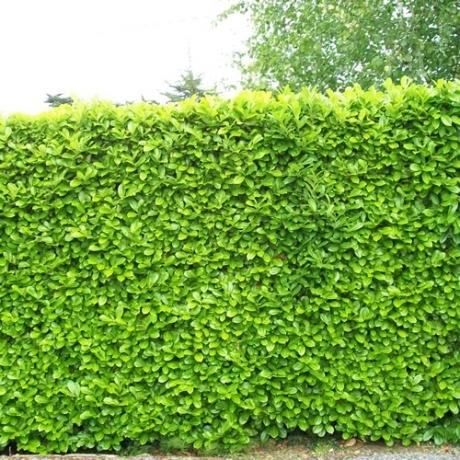 Prunus Laurocerasus – Laurel
Laurel is a very dense, fast growing, evergreen hedge with large, leathery, glossy green leaves. In spring, upright spikes of white flowers contrast well against the foliage.
This variety will form a tall, wide, substantial hedge. Shade tolerant.
Size: in cm   30-50      Age 0/1
Price: €2.30 each
Prunus Spinosa – Blackthorn
Blackthorn is a shrub with long sharp thorns often found in hedgerows. It stands out in early spring with masses of white flowers which appear before the leaves. It grows in a wide variety of soils with the exception of very wet conditions.
The famous Shillelagh Stick (or cudgel) was made from locally grown blackthorn. The sticks were smeared with butter and placed up a chimney to be cured and the bark was left on to add to its toughness. It was traditionally used as a weapon to settle "gentlemanly disputes".
Size: in cm 40+,  60+
Price: €65.00 per 100                                             (Min qty 100 trees)